In 2015, Global Change Center organized and facilitated an innovative South-South learning exchange in Buenos Aires, Argentina. The aim was to learn and reflect on the process of transitional justice -memory, truth and justice-in Argentina by meeting the most important stakeholders driving the democratization process since the 80′ and until today.
The exchange informed the Egyptian and Sri Lankan transitional process and opened up new ways for mutual cooperation with the participants, actively working in the promotion of justice and reconciliation after dictatorship and civil wars.
Over the course of 10 days, the team composed by Amal Muktar (an Egyptian political researcher), Bhavani Fonseka (a Sri Lankan human rights lawyer) and Cecilia Milesi (Global Change Center's founder and expert in conflict transformation and public participation) conducted more than 20 in- depth conversations with high level officials from the Argentine Government, leaders who led the transitional path in the 80', relevant national and international NGOs and key academics and professionals coordinating the most innovative research and memory spaces in Argentina (full list of interviewees below). Each meeting -lasting more than three hours-were an excellent exchange and an opportunity for debate and inspiration, helping the participants to think strategic options to continue the work towards accountability and justice in Sri Lanka, Egypt and beyond.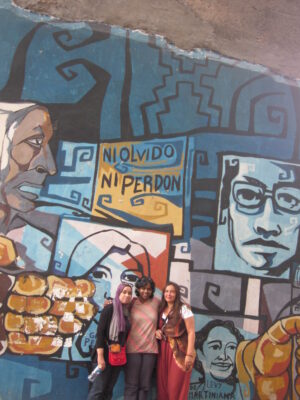 The summary of the lessons learned are documented in the report: "Justice across oceans: lessons learnt from the South-South Learning and research exchange between Argentina, Sri Lanka and Egypt", The report can be downloaded here : Lessons Learnt_Justice across oceans (CMilesi (ceciliamilesi.com)
In this report, the readers can read more details in the following most salient lessons learnt:
The power of organized citizens

Significance of the Right to Truth in transitional justice

Understanding justice and peace as a political endeavour

The need of constantly adapt, re-strategize and change in order to search for peace and justice

National Leadership: local commitment to human rights helped to strengthen democracy

Value of complementing national and international spheres for action

Justice as central for democracy and institutional building

The importance of contextualizing the idea of reconciliation

Investigating civic-military connections: dismantling the socio-economic and political system which allowed for mass repression

A new future from learning from the past: the central role of memory spaces and archives
In Argentina and the world we say: Never Again, "Nunca Mas". This report can support activists, practitioners and academics to innovate in their ideas for democratization in diverse contexts.
If you would like more information and/or explore how to organize a similar South-South exchange with Global Change Center's support, do contact us: cecilia@ceciliamilesi.com
Full list of interviewees and special thanks to:
Ministry of Defense of Argentina, Human Rights Department, Director and Legal Advisers

Foreign Affairs, Human Rights Department and Political teams and advisers Asia and Middle East

Procuracion General de la Nacion, Office of Crimes against Humanity

Secretary of Human Rights of Argentina, National Memory Archives, Archives Team

Ex-ESMA, Espacio de la Memoria: Cultural Centre Haroldo Conti, Director and Education Team

Graciela Fernandez Meijide, CONADEP Secretary and Argentine Political leader

Dr. Ricardo Gil Lavedra, former judge of the Junta Trials and currently Argentine Parlamentarian

Abuelas de Plaza de Mayo, Vice-President and Legal Team

Memoria Abierta (Open Memory), Executive Director and Institutional Relations Team

Amnesty International Argentina, Executive Director and Communications and Press Team

CELS (Centro de Estudios Legales y Sociales), Research and Archives Team

Equipo de Antropología Forense de Argentina, Forensic Coordinator

Rut Diamint, University Di Tella, expert in security and civic-military relations

Sergio Balardini, FES Foundation Programmes Director and expert in youth and political participation

Daniel Feirnstein, University of Tres de Febrero, Tribunal del Pueblo and expert in genocide

Parque de la Memoria (Memory Park), Institutional Relations and Education Team
DOWNLOAD NOW – Cecilia's paper "Justice across oceans: lessons learnt from the South-South Learning and research exchange between Argentina, Sri Lanka and Egypt"- Lessons Learnt_Justice across oceans (CMilesi (ceciliamilesi.com)