In July 2022, Global Change Center, Praxis UK, and Praxis Institute for Participatory Practice decided to embark on a long-term journey: we joined forces to transform inequitable practices mainstreamed in the evaluation of international cooperation initiatives worldwide.
We started by facilitating a South-to-South action-research funded by Ford Foundation and we continue today by mobilizing globally to promote change towards equity. We work closely with donors, civil society organizations, social movements, think-tanks and other organizations which are open to discover how to implement evaluations as tools for emancipation, collective learning and transformation of the systemic global and local challenges that keep the majority of our world oppressed and victims of multiple intersecting crises.
We believe that truly transformative change for global equity should emerge from the South. Inspired by our conviction, we invited partners from Latin America, Asia and Africa to be part of this South-South collaboration. We invited six Global South partners: Institute for Global Dialogue (IGD), South Africa; Women for a Change (WFaC), Cameroon; Gender and Equity Network South Asia (GENSA); North-South Initiative (NSI), Malaysia ; the Latin America Faculty of Social Sciences (FLACSO) Argentina; and Fundación SES, Argentina, Latam. Each one of us, from our diverse powerful positions, are facilitating a collaborative process to ensure that the conversation on equity and evaluation lead to concrete examples
Action-research on equity-oriented evaluation
Between July 2022 and August 2023, we evolved a Southern-led and participatory action-research commissioned by Ford Foundation.
This joint analysis was oriented to advance: 1) the understanding of the
equity-centered international cooperation evaluation landscape, and 2) identify gaps and
opportunities, that if seized, would help increase demand for equity-centered evaluation among international cooperation funders.
We conducted a Southern-led assessment to hear from a variety of stakeholders working in international cooperation, paying particular attention to the often overlooked perspectives and ideas of those from and based in the Global South, where the majority of international cooperation efforts are located.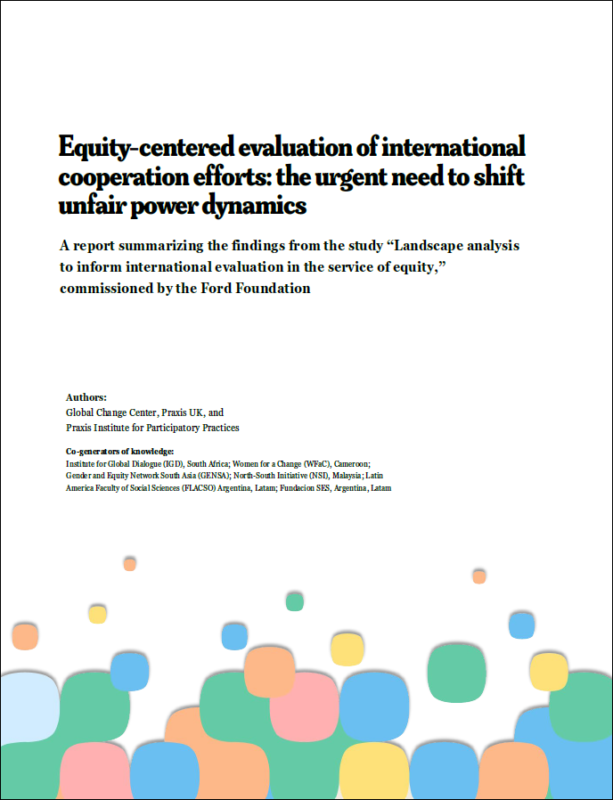 We are happy to now offer our final research reports for all committed actors to use as a tool for advocating for equity-centered evaluation policies and practices. In the reports, we present evidence, insights and aggregated perspectives about:
1- The unequal global context
2- A rapid power-aware picture of the evaluation ecosystem that clearly de-construct:
Diverse understanding of equity highlighted by Global North and Global South actors
A clear description of who is excluded
A detail account on how exclusion happens and who is responsible for pervasive exclusionary and discriminatory practices
3- An initial mapping of existing Journeys of Change with a critical analysis on how to amplify momentum for change.
4- Recommendations to ensure that equity is centered in evaluation
The findings of the 2023 reports were generated through a comprehensive literature review, an online survey of 47 experts, and interviews and focus groups with 92 individuals from 84 organizations, among them 13 Global North funding organizations, 11 evaluation networks from across the globe and 58 consultancies, civil society organizations, social movements,
academic institutions and government agencies in the Global South.
As we continue working together over the next years, we might co-produce new knowledge products to inform new policies and practices.
If you would like to connect with us to discuss ideas on how we could work together with your organization in order to deepen analysis on equity-oriented evaluation, and/or package and present findings in interactive learning and organizational change processes, please contact us! (cecilia@ceciliamilesi.com)
Influencing to transform the evaluation ecosystem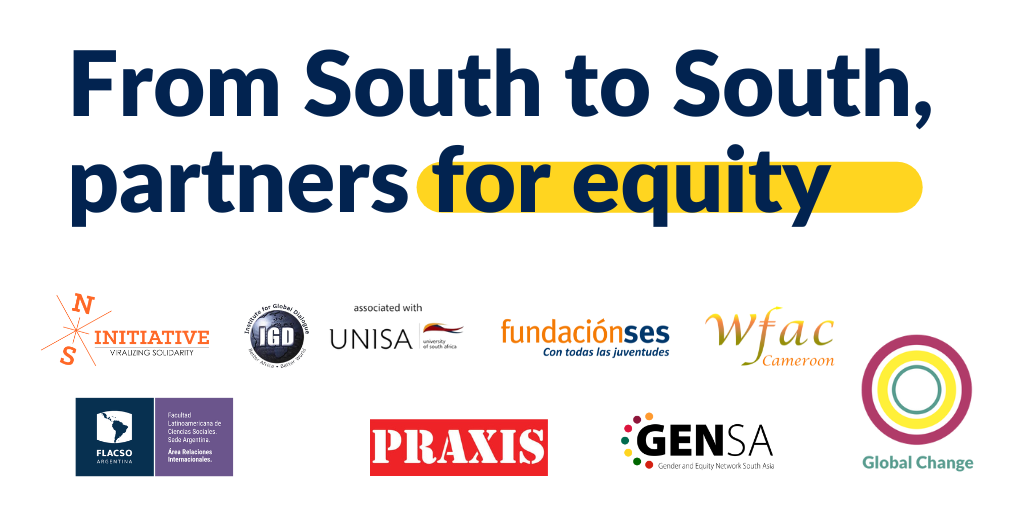 As a South-to-South collective with expertise in participatory, emancipatory, power-aware, and bottom-up learning processes, our aim always was to facilitate a research process oriented to activate a transformative change process affecting the broad evaluation ecosystem -as a key pillar of the international cooperation industry-.
With this in mind and embracing the opportunity to promote shifting power, acknowledging a momentum and a global call for equity and justice, we are ready to advocate and mobilize for equity.
From September 2023, we will be focusing on making knowledge on equity-centered evaluation globally accessible. Only access and utilization of this knowledge will have the potential to challenge exclusionary policies and practices.
Please stay tuned with with our social media to receive constant updates on upcoming activities including:
Global Webinar series to present and discuss the findings
Conferences, summits and debates involving global donors and key actors
Input into white papers and internal assessments undertaken by OECD-DAC and G77 +China donors
Trainings and knowledge sharing experiments oriented to apply equity-centered options and promote organizational change
If you would like to contact us to propose a specific activity adapted to the needs of your organization or social movement, please contact us! We work across the whole Global South together with our partners! (cecilia@ceciliamilesi.com)